Call us Toll Free 1-877-482-4283
Free Shipping
(Universal Fit) Freightliner Step Van Axle Covers
Below is our selection of Aftermarket, Step Van Axle Covers for alloy and/or steel wheels. Once you find the picture of the Step Van Axle Covers you need, simply select the add to cart button below the picture. Our Aftermarket Step Van Axle Covers are made of high strength ABS plastic or stainless steel and we offer a 100% Satisfaction Guarantee on all Step Van Axle Covers orders. We also offer FREE SHIPPING on all Step Van Axle Covers orders shipped within the contiguous U.S. You may order your axle covers (center caps) securely online or call us Toll Free, (877) 482-4283 to place an order. Finally, please ensure you are ordering the correct product. Our products are universal fit; however, there are often different fitments for the same model year. If you are unsure of what to order, please contact us for assistance.
---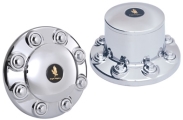 Set of 4, JTC822 Freightliner Step Van, MT-45, MT-55, W700 Axle Cover Set
Price: $139.95
Order Online
Set of 4, JTC822 Freightliner, Universal Fit ABS Chromed Plastic Screw On Axle Covers.

Application: 8 Lug, 275mm Bolt Pattern, 19.5 or 22.5 Inch Steel Wheels with 22mm Studs.

Model Years:
Step Van '96-Current
M Line '96-'08
MT45 '96-Current
MT55 '96-Current
W700 '96-'06

Note: Add Quantity of 1 to Basket for 4(four) Axle Covers.