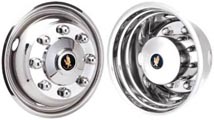 JDG95820/22 GMC/Chevy P30, P32, P37, P42 19.5" Stainless Hubcap Set
Price: $269.95
Order Online
Set of 4, 19.5 Inch Universal Chevrolet/GMC, 8 Lug, 4 Hand Hole, Stainless Steel Bolt On Dually Hubcaps/Simulators.

Includes 2 front and 2 rear simulators.

Note: Center Caps Pop Out for Manual 4x4 Lockout

Application: 19.5 x 6.75 wheel, 275mm Bolt Pattern, 20mm or 22mm studs.

Fits: Accuride Wheel 28680, 28612, 28466, 50180 or 28532

Model Years:
P30 Workhorse '96 to Current
P32 Workhorse '96 to Current
P37 Workhorse '96 to Current
P42 Workhorse '96 to Current

About Our Simulators, CLICK HERE




JDGM19510-09 Chevy/GMC P30, P32, P37, P42 Workhorse 19.5" Hubcap Set
Price: $229.95
Order Online
Set of 4, 19.5 Inch Chevrolet/GMC, 5 hand hole, Stainless Steel Bolt On Dually Wheel Hubcaps/Simulators.

Includes 2 front and 2 rear simulators.

Application: Vehicles with 19.5 Inch, 5 or 10 lug front, 10 lug rear dually wheels.

Fits: Accuride Wheel 29667, 27775, 32069 or 29207

Model Years:
P30 '75 to Current
P32 '75 to Current
P37 '75 to Current
P42 '75 to Current

Note: The front simulators on this product will show 10 lugs even though they fit both the 5 & 10 lug wheel.

About Our Simulators, CLICK HERE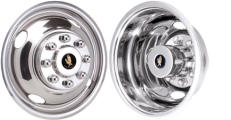 JDGM1608-03 Chevy, GMC DRW 16 Inch Bolt On Stainless Steel Hubcap Set
Price: $199.95
Order Online
Set of 4, 16 Inch Chevrolet/GMC, 8 lug, 4 hand hole, Stainless Steel Bolt On Dually Wheel Hubcaps/Simulators.

Includes 2 front and 2 rear simulators.

Fits:
Silverado 3500 DRW '01-'07
Sierra 3500 DRW '01-'07
Express Van 3500 DRW '03 & Up
Express 3500 Cutaway DRW '03 & Up
Express 4500 Cutaway DRW '09 & Up
Express G3500 DRW '03 & Up
Express G4500 DRW '09 & Up
Savana Van 3500 DRW '03 & Up
Savana 3500 Cutaway DRW '03 & Up
Savana 4500 Cutaway DRW '09 & Up
Savana G3500 DRW '03 & Up
Savana G4500 DRW '09 & Up
P30 Workhorse DRW '03 & Up
P32 Workhorse DRW '03 & Up
P37 Workhorse DRW '03 & Up
P42 Workhorse DRW '03 & Up

About Our Simulators, CLICK HERE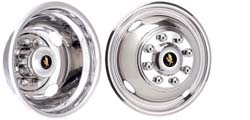 JSD1608 16 Inch Dually Universal Pound On Stainless Steel Hubcap Set
Price: $169.95
Order Online
Set of 4, 16 Inch Universal, 8 lug, 4 hand hole, Stainless Steel POUND ON Dually Wheel Simulators.

Includes 2 front and 2 rear simulators.

Note: Front centers pop out for manual 4x4 lockout hubs.

Fits:
Chevy Truck DRW '73-'07
GMC Truck DRW '73-'07
Chevy Van DRW '73 & Up
GMC Van DRW '73 & Up
GM 3500 Cutaway Van DRW '03 & Up
GM 4500 Cutaway Van DRW '09 & Up
Express G3500 DRW '03 & Up
Express G4500 DRW '09 & Up
Savana G3500 DRW '03 & Up
Savana G4500 DRW '09 & Up
Dodge Truck DRW '73-'02
Ford E350 DRW '85 & Up
Ford E450 DRW '07 & Up
Ford F350 DRW '85-'04
P30 Workhorse DRW '75 & Up
P32 Workhorse DRW '75 & Up
P37 Workhorse DRW '75 & Up
P42 Workhorse DRW '75 & Up

Note: Will fit '00-'02 Ram 3500 DRW but hand holes won't line up.

About Our Simulators, CLICK HERE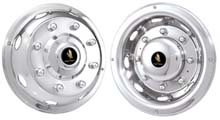 QC1019 Universal Dually 19.5" Stainless Steel Bolt On Hubcap Set
Price: $289.95
Order Online
Set of 4, 19.5 Inch, 8 hand hole, Stainless Steel Bolt On Dually Wheel Hubcaps/Simulators.

Includes 2 front and 2 rear simulators.

Application: Vehicles with 19.5 Inch wheels.

Fits: Accuride Wheel R89340, 27774, 27775, 28004, 28179, 28466, 28532, 28612, 28680, 28853, 29015, 29186, 29207, 29236, 29388, 29521, 29584, 29585, 29667, 29717, 29719, 29736, 29745, 29839, 29884 or 8365

Will Fit:
HINO
Dodge M500/M600
Osh Kosh
John Deere
GM P30 DRW
GM P32 DRW
GM P37 DRW
GM P42 DRW

Note: This set uses a Universal Ring Mount Retention System and will fit most 19.5 Inch wheels.

About Our Simulators, CLICK HERE





JSST1608 Stainless Steel 16 Inch Truck and Trailer Hubcap Set
Price: $129.95
Order Online
Set of 4, JSST1608 Stainless Steel Single Wheel Snap On Truck and Trailer Hubcaps.

Will Fit Most 16 Inch Standard Steel Wheels.

Centers Pop Out for 4x4 Lockout and Trailer Wheels.

Note: Will NOT Fit Styled Steel Wheels.

Note: Add Quantity of 1 to Basket for 4(four) Hubcaps.