Restoring a New Vehicle from Lines to Lugs
When restoring a vehicle, you'll naturally prioritize functionality to make sure that the car runs safely and well. Working within your time frame and budget, you'll take care of the major items first. This could include replacing a tired suspension system, doing a thorough engine tune-up, and so forth. The specifics of what you'll do will depend upon the condition of the car when you got started, and the time and effort it will take depends upon multiple factors:
Has the vehicle been roadworthy, and is it still?
– Does the fuel line and carburetor, for example, need deep cleaning?
– Is there rust that needs to be ground away and addressed?
– Was the vehicle involved in an accident? If so, what needs to be repaired or replaced?
Once the vehicle is in good working order, you'll likely focus on its appearance next: inside and out. Perhaps the vehicle needs a quality paint job. Or maybe it's enough to touch up the paint to pristine condition—either doing so yourself if you've got a deft hand or taking it to an auto body shop.
Inside, you might decide to get the seat cushions reupholstered or replaced, source new parts for cracked but still functional ones—such as a shift knob or steering wheel—and otherwise make your vehicle look fresh.
If you haven't already done so as part of your work to get the car in excellent running condition, you'll likely want to replace your tires. They're literally the part that allows the rubber to meet the road.
Then, for a complete and dazzling restoration, you'll also want to focus on the perfect stock vehicle wheels with OEM rims. For the final exclamation point, add on the appropriate center caps, hubcaps, and wheel covers—and then take a bow! This vehicle has the finishing touches to make it a uniquely beautiful restoration. Wash it well and shine it up, perhaps having it professionally coated to protect the paint, and detail the inside for a factory-fresh look.
We'll share more about new aftermarket wheels, aftermarket hubcaps, OEM wheels/stock wheels, OEM rims, center caps, wheel covers, and more soon. But, first, also consider a couple of issues that frequently come up when renovating classic cars: resto-mod additions and authenticity in renovations.
Resto Mod
If you've got a classic car, you might want to go the resto-mod route, using modern parts when it makes sense. Typically, the vehicle looks the same, but technologies bring it up to today's standards. People restoring vehicles might, for example, decide to add airbags for safety purposes or modify the engine to bring it up to current emission standards. Engines may also be upgraded to boost fuel efficiency. The goal of resto-mod is to renovate the vehicle in practical ways without significantly changing the appearance.
Authenticity in Renovations
When renovating a classic car, many collectors will insist on keeping original components or replacing them with ones that would have been used when the vehicle was new. Depending upon the vehicle's make, model, and year, it can be challenging to source some of these parts. So, what should you do? Some people believe that a vehicle should be restored to its original state, no matter what, while others are more comfortable with adding their own flourishes.
If you hope to sell the vehicle and get the most money out of the sale, sticking to the original would be the recommended route. Even when the vehicle isn't old enough to be a classic, you might prefer to have OEM parts, such as your vehicle wheels, for a cohesive, authentic look.
If you want to enjoy your vehicle in your way, then you have more flexibility in making your own choices—perhaps replica wheels that aren't exactly original but really look cool.
HubCap Haven Streamlines the Search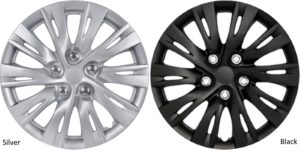 When you're looking for precisely the right OEM wheels/stock wheels and OEM rims, HubCap Haven has access to what you need from dozens of manufacturers. Simply choose the make and model you need and, often, there are multiple options for that year. You can also get exactly the right wheel covers, center caps and hubcaps, aftermarket wheels and aftermarket hubcaps, and more.
Hubcaps Haven makes everything convenient and easy, allowing you to order what you need from the comfort of your home. You just need to order from our simple-to-use website. Do you have any questions? Want to discuss any issues with your order? Please contact us online or call 877-482-4283.